Home
>
English
>
Desktop
>
recipes
>
Grilling gourmet turkey burger sliders on a portable charcoal grill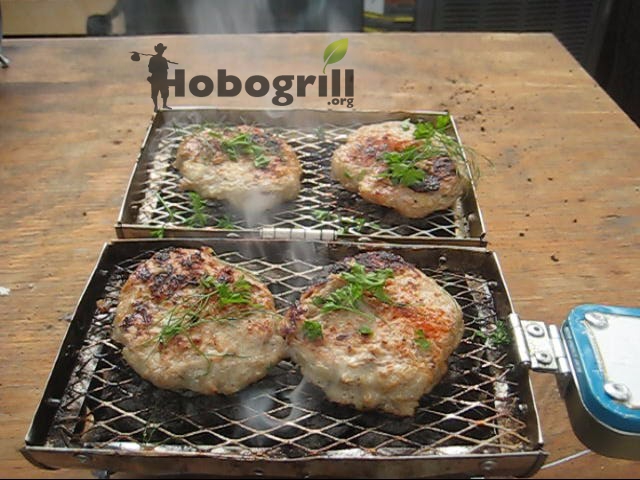 Pros
Cons

Nice Portion Size
Can be eaten directly from the skewer (no plate needed)
Healthy
Ingredients
Ground Turkey Meat
burger buns or bread
Roma or Vine Ripe tomato
Sliced or Crumbly Cheese
Garlic powder (optional)
Onion powder (optional)
Ground Cayenne Pepper or Black Pepper (optional)
Dill or Cilantro (for garnish)
Paprika (for garnish)
Tools and Utensils
Hobogrill HG2 Series portable grill or equivelent
Fork
Plate
Coal Preparation
For this operation we are going to want to have intense heat for a period of 7-15 minutes. The coals should be such that to produce intense heat either fresh charcoal with small uniform pieces. Saturate individual coals thoroughly with fluid from the lighter tin. Wait 1 to 2 minutes, then re-saturate and light. How hot the coals get depends on the many factors such as available oxygen which can be relatively low in the mountain tops with no wind and relatively high by the sea with high winds.
Cooking Instructions
Prepare the patties by impregnating the ground turkey meat with the garlic powder, onion power, and pepper. Make patties ~3.5" in diameter. Place burger patties on grill. Cook thoroughly. Remember flip and rotate 90 degrees for grill marks.
Garnish and Serve
After the burgers are cooked on both sides, pinch (not sprinkle) paprika onto the turkey burger patties as to create contrast of the bright red against the almost whitish meat colored background. Place a few strands of dill followed by a few cloves of cilantro on each patty.
Serve on a bun (which can be toasted on the hobogrill if desired) with slices of tomato and cheese.


#hobogrill #turkeyburgersliders #elegant #tasty


21